Message from the President – Matt Cooperberg, MD
Greetings to all California urologists:
The COVID-19 pandemic is easily on track to effect the greatest social upheaval the world has seen since World War II, and is doing so at a truly breakneck pace. Information and policies are changing at times by the hour, and no one truly has any realistic sense of how the outbreak will play out in the US, in terms of either severity or duration. In the absence of effective national leadership on this issue, states and regions have been responding and marshalling resources at highly variable rates.
California's leaders have erred on the side of relatively early intervention and aggressive "shelter-in-place" orders. The San Francisco Bay Area began its lockdown on March 16th, and the rest of the state followed on March 19th. Recent data suggest these were wise decisions, as California has maintained one of the slower velocities in incidence (see figure), even as we are hearing reports from other states about ICUs already approaching capacity with the epidemic nowhere near its peak. Perhaps we are still in the calm before the storm, but we can certainly hope that earlier and more aggressive social distancing will help us weather that storm.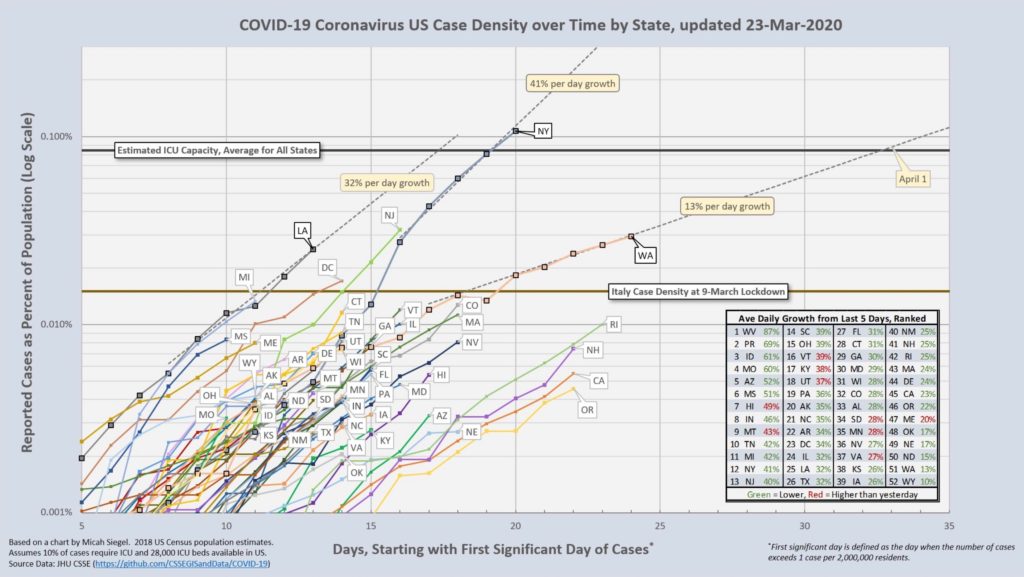 Produced by Robert Williams (@isfBob), https://twitter.com/isfBob/status/1242265803757477888/
Individual hospitals, health care systems, and medical practices are still grappling with the pandemic's implications, in terms of both short-term capacity planning and long-term financial impact. It should go without saying that for now the former must be the paramount concern. Most hospitals are—or should be—canceling all but urgent surgical cases, both to maintain ventilator and staff capacity and to preserve personal protective equipment. Most office visits and procedures likewise should be canceled, again to preserve equipment but also to keep patients with non-urgent conditions at home as much as possible.
Clearly, the question of what is "urgent" is open to some interpretation, but it is a small minority of our interventions which cannot wait at least a month or two. European Urology has published a consensus guideline for both benign and cancer cases, available along with other COVID-19 related resources, at https://tinyurl.com/uro-covid. While there are certainly debatable specifics, this document provides a good basis for discussion and policy-setting.
Most of us are not yet on the front lines of this battle. In fact, one of my favorite memes making the rounds on social media exhorts everyone to "Stay home unless you want a urologist to treat your pneumonia!" If and when the numbers of COVID-19 patients in California escalate, we may be called to provide care outside our usual practice and comfort zone; until then, one of our most important roles is keeping patients home. One of the real silver linings of this situation is that years of intractable regulations frustrating widespread implementation of telehealth, from HIPAA interpretations to interstate practice restrictions, have been swept aside, and reimbursement policies are improving by the day. If your practice is not already set up for video-based visits, this is a great time to try them out.
Hopefully California will stay on its relatively flattened curve and will avoid the worst of what is now confronting other states—and perhaps some of the care innovations we are now rapidly engineering by necessity will yield durable improvements for all patients once the crisis abates. In the meantime, I wish you all, and your families and loved ones, good health. Stay safe, and stay home!
Best wishes,
Matt Cooperberg
President, California Urological Association